Chevrolet Spark 1.0 PS (Petrol) with Prices and specification
Drive to your office in style in the Chevrolet Spark - India's most preferred car manufacturer. A Chevrolet car in India is an ideal family as well as personal choice any time. Spend a few minutes to read the New Chevrolet Spark 1.0 PS (Petrol) Review here.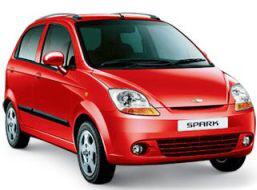 Looks can be deceptive. Here's a case to prove the point. The first look, is a far cry from what Chevrolet Spark actually is. It looks like Matiz, but its twice-refined clone of Daewoo matiz. Spark has evolved from where Matiz left. Available in four options the much-talked about features of Spark includes fuel-efficiency, weightlessness and contemporary looks. However, the biggest turn-on of Spark is its advanced systems, aiding effortless driving on congested roads and highways.
Spark is available in two versions of petrol engine-0.8L and 1L and in six variants. The large round head lamps of Spark compliments its Mono form design. Naturally, the make, makes it easy for the owners to park their cars in metros. Better visibility from high driving position with low waist line and slim pillars for tight reversing occasions is some of its added features.
Chevrolet Spark 1.0 PS (Petrol) Features and Specifications
Overview
Make Chevrolet
Model Spark
Variant 1.0 PS
Body Type Hatchback
Number of doors 5
Fuel Efficiency
City Mileage 13 kmpl
Highway Mileage 18 kmpl
Fuel Capacity 35 litre
Fuel Type Petrol
PRices Rs. 3,55,689